Cooking processes increase bioactive compounds in organic and conventional green beans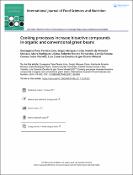 Arquivos
Autores
Lima, Giuseppina Pace Pereira [UNESP]
Costa, Sergio Marques [UNESP]
Monaco, Kamila de Almeida [UNESP]
Fernandez, Roberto Morato [UNESP]
Correa, Camila Renata [UNESP]
Minatel, Igor Otavio [UNESP]
Resumo
The influence of cooking methods on chlorophyl, carotenoids, polyamines, polyphenols contents and antioxidant capacity were analyzed in organic and conventional green beans. The initial raw material had a higher content of chlorophyl and total phenolics in conventional green beans, whereas organic cultive favored flavonoid content and antioxidant capacity. Polyamines and carotenoids were similar for the two crop systems. After the cooking process, carotenoids (β-carotene, lutein and zeaxanthin) increased. Microwave heating favored the enhancement of some polar compounds, whereas pressure cooking favored carotenoids. When we used the estimation of the radical scavenging activity by electron spin resonance (ESR) spectroscopy, a reduction of the DPPH radical signal in the presence of green bean extracts was observed, regardless of the mode of cultivation. The highest reduction of the ESR signal ocurred for microwave cooking in organic and conventional green beans, indicating a higher availability of antioxidants with this type of heat treatment.
Palavras-chave
Carotenoids
,
ESR
,
food antioxidant
,
polyamines
,
total phenolic content
Como citar
International Journal of Food Sciences and Nutrition, v. 68, n. 8, p. 919-930, 2017.