Screening Sugarcane Wild Accessions for Resistance to Sugarcane Mosaic Virus (SCMV)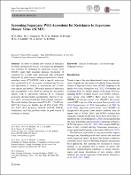 Autores
Melloni, M. N. G. [UNESP]
Resumo
In order to identify new sources of resistance for future introgression crosses, wild sugarcane germplasm was screened for resistance to Sugarcane mosaic virus (SCMV) under high inoculum pressure. Evaluation of symptoms by a grade scale associated with serological diagnostic by plate-trapped antigen-enzyme-linked immunosorbent assay (PTA-ELISA) with a specific antiserum were performed in 43 accessions, encompassing Saccharum officinarum, S. barberi, S. spontaneum and S. robustum species and hybrids. Differential patterns of resistance and susceptibility were observed among the Saccharum species, with S. officinarum followed by S. robustum accessions showing higher susceptibility, whereas S. barberi and S. spontaneum had the most resistant accessions. The results indicate that accessions IS76-155, IJ76-418 red, NG57-50, Ceram red, Badilla, Sac.off 8276, Fiji19, IJ76-313, US57-141-5, Krakatau, IN84-58, IN84-88, IN84-82, Gandacheni, and Chin, possibly consist in good sources of resistance to mosaic.
Palavras-chave
Sources of resistance
,
Saccharum spp.
,
Sugarcane mosaic
Como citar
Sugar Tech. New Delhi: Springer India, v. 17, n. 3, p. 252-257, 2015.
Coleções