Fish biomarker responses to perturbation by drought in streams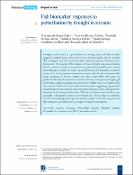 Autores
Ondei, Luciana de Souza [UNESP]
Garcia, Danielly Pereira [UNESP]
Felicio, Andreia Arantes [UNESP]
Humberto da Silva, Danilo Grunig [UNESP]
Almeida, Eduardo Alves de [UNESP]
Editor
Soc Brasileira Ictiologia
Resumo
Drought can be viewd as a perturbation in running waters and fish are often trapped in isolated pools, where deterioration of water quality may be stressful. We investigated how this extreme condition influences response of oxidative stress biomarkers. The response of the characid Astyanax elachylepis was assessed during the dry and rainy seasons in intermittent and perennial (control) sites in streams from Brazilian savannah (Cerrado). We predicted that the biomarkers would be enhanced in the dry season in intermittent streams only due the environmentally harsh conditions in the few isolated pools that remain filled with water. As predicted, fish from the intermittent stream in the dry season presented higher gill MDA values, indicating greater stress. In the liver, MDA values were higher in the dry season for both intermittent and perennial streams, suggesting a generalized seasonal response. As expected, some antioxidant response enzymes changed in the intermittent sites during the dry season. Therefore, oxidative stress biomarkers vary seasonally, with greater increase in intermittent sites. These evidences contribute for the understanding of the spatio-temporal variation of the fish responses and fish resistance to perturbations by drought in tropical environments.
Palavras-chave
Astyanax elachylepis
,
Antioxidant response
,
Brazilian savanna
,
Preparation for oxidative stress (POS)
,
Seasonal variation
Como citar
Neotropical Ichthyology. Sao Paulo: Soc Brasileira Ictiologia, v. 18, n. 2, 15 p., 2020.