Luminescent terbium doped aluminate particles: Properties and surface modification with asparagine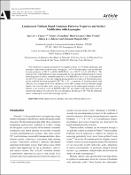 Autores
Caiut, José M. A. [UNESP]
Messaddeq, Younes [UNESP]
Ribeiro, Sidney J. L. [UNESP]
Resumo
New luminescent organic-inorganic hybrid particles based on Tb-doped aluminates and asparagine (Asn) surface modifiers were investigated. The Tb3+ doped inorganic core was obtained by spray pyrolysis, at 200 °C γ-AlOOH (BOE:Tbx%) or at 700 °C γ-Al2O3 (?TA:Tbx%). The reaction of Asn with boehmite in water disaggregated the sub-micronic boehmite particles to give stable dispersion of surface modified nanoparticles Asn:BOE:Tbx% (x = 1 or 5). Concerning the Asn:γTA:Tbx% system, an Asn film wrapping alumina particles was observed. Photoluminescence spectra exhibited the bands assigned to Tb3+ 5D4 → 7FJ = 6-3 transitions. A broad absorption band (240 nm) was assigned to the host (aluminate) to ion (Tb3+) energy transfer. Efficient energy transfer was observed when active ions are incorporated in the defect-spinel structure of γTA, whereas it was relatively weak for BOE:Tb where Tb3+ are bonded to the hydroxyls groups at nanocrystals surface. It is noticeable that Asn strengthens the linkage of Tb3+ with the aluminate matrix, enhancing the host to dopant energy transfer.
Palavras-chave
Alumina
,
Hybrid
,
Rare earth
,
Spray pyrolysis
,
Terbium luminescence
Como citar
Journal of the Brazilian Chemical Society, v. 26, n. 12, p. 2536-2544, 2015.