Non-Abelian T-duality for nonrelativistic holographic duals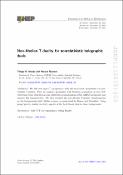 Autores
Araujo, Thiago R. [UNESP]
Resumo
Abstract: We find new type II backgrounds with non-relativistic symmetries via non-Abelian T-duality. First we consider geometries with Galilean symmetries in type IIA, which have been identified as non-relativistic generalizations of the ABJM background and massive IIA supergravities. We then consider the non-Abelian T-duality transformation on the backgrounds with Lifshitz symmetry constructed by Donos and Gauntlett. Using gauge/gravity duality we study aspects of the field theory dual to these backgrounds.
Palavras-chave
AdS-CFT Correspondence
,
String Duality
Como citar
Journal of High Energy Physics, v. 2015, n. 11, p. 1-37, 2015.