A class of orthogonal functions given by a three term recurrence formula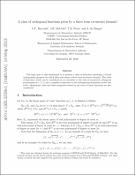 Resumo
We present a class of functions satisfying a certain orthogonality property for which there also exists a three term recurrence formula. This class of functions, which can be considered as an extension to the class of symmetric orthogonal polynomials on [-1, 1], has a complete connection to the orthogonal polynomials on the unit circle. Interpolatory properties, quadrature rules and other properties based on the zeros of these functions are also considered.
Palavras-chave
Orthogonal functions
,
Orthogonal polynomials on the unit circle
,
Quadrature rules
,
Self-inversive polynomials
,
Three term recurrence
Como citar
Mathematics of Computation, v. 85, n. 300, p. 1837-1859, 2016.