MOLECULAR INVESTIGATION OF HEMOTROPIC MYCOPLASMAS IN HUMAN BEINGS, DOGS AND HORSES IN A RURAL SETTLEMENT IN SOUTHERN BRAZIL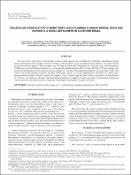 Autores
Costa Vieira, Rafael Felipe da
Wischral Jayme Vieira, Thallitha Samih
Rodrigues dos Santos, Nelson Jesse
Martins, Thiago Fernandes
Editor
Inst Medicina Tropical Sao Paulo
Resumo
The aims of this study were to determine the prevalence of hemoplasmas in a rural Brazilian settlement's population of human beings, their dogs and horses, highly exposed to tick bites; to identify the tick species parasitizing dogs and horses, and analyze factors associated with their infection. Blood samples from 132 dogs, 16 horses and 100 humans were screened using a pan-hemoplasma SYBR green real-time PCR assay followed by a species-specific TaqMan real-time PCR. A total of 59/132 (44.7%) dog samples were positive for hemoplasmas (21 Mycoplasma haemocanis alone, 12 'Candidatus Mycoplasma haematoparvum' alone and 21 both). Only 1/100 (1.0%) human sample was positive by qPCR SYBR green, with no successful amplification of 16S rRNA or 23 rRNA genes despite multiple attempts. All horse samples were negative. Dogs >1 year of age were more likely to be positive for hemoplasmas (p = 0.0014). In conclusion, although canine hemoplasma infection was highly prevalent, cross-species hemoplasma transmission was not observed, and therefore may not frequently occur despite overexposure of agents and vectors.
Palavras-chave
Hemoplasma
,
Mycoplasma haemocanis
,
'Candidatus Mycoplasma haematoparvum'
,
Real-time PCR
Como citar
Revista Do Instituto De Medicina Tropical De Sao Paulo. Sao Paulo: Inst Medicina Tropical Sao Paulo, v. 57, n. 4, p. 353-357, 2015.