Variables in P300 recording: Task type and electrode position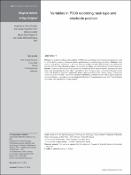 Autores
Simões, Humberto de Oliveira
Frizzo, Ana Cláudia Figueiredo [UNESP]
Reis, Ana Cláudia Mirândola Barbosa
Resumo
Purpose: To analyze the latency and amplitude of P300 responses obtained with electrodes positioned at Cz and Fz and in different tasks of infrequent stimulus identification in normal hearing individuals. Methods: Forty adults of both genders participated in the study. Three recordings with three different tasks were obtained for the identification of the infrequent stimulus; simultaneous recordings were obtained from Cz and Fz positions. Results: Cz position showed significantly greater amplitudes and lower latencies than Fz. Regarding the three tasks, only pronouncing the word 'thin' was different from raising a finger, with lowest latencies for the verbal task. Regarding amplitude, significantly higher values were observed for raising a finger, followed by pronouncing the word 'thin' and mental counting. Conclusion: Cz obtained the best values, highest amplitude and lowest latency. Lowest latencies were obtained for the task of pronouncing the word 'thin' and the highest amplitudes were obtained for raising a finger.
Palavras-chave
Audiology
,
Electrophysiology
,
Hearing
,
P300 Evoked Potentials
,
Young Adult
Como citar
CODAS, v. 28, n. 4, p. 355-361, 2016.