Violence in the Rural Global South: Trends, Patterns, and Tales From the Brazilian Countryside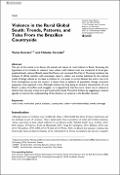 Resumo
The aim of this article is to discuss the trends and nature of rural violence in Brazil. Assuming the hypothesis of an increase in violence rates, urban–rural violence rates are compared at three geographical levels: national (Brazil), state (São Paulo), and municipal (Rio Claro). The study combines the analyses of official statistics with newspaper reports, videos, and articles published by the national media. Findings indicate an increase in violence in rural areas in recent decades but such a rise is far from homogenous across the country; it shows links to patterns of population change, economic expansion, and organized crime. Although violence has long being an inherent characteristic of rural Brazil—a place of conflicts and struggles—it is argued here that the more recent rise in violence is distinct from the past, at least in its portrayal by the media. The article finalizes by suggesting a research agenda to improve the understanding of the dynamics of violence in the Brazilian context.
Palavras-chave
countryside
,
homicides
,
media coverage
,
police statistics
,
rural crime
,
urban–rural relationships
Como citar
Criminal Justice Review, v. 42, n. 3, p. 270-290, 2017.
Coleções