Analytical Solutions of the Fokker-Planck Equation for Generalized Morse and Hulth,n Potentials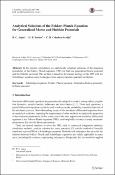 Resumo
In the present contribution we analytically calculate solutions of the transition probability of the Fokker-Planck equation (FPE) for both the generalized Morse potential and the Hulth,n potential. The method is based on the formal analogy of the FPE with the Schrodinger equation using techniques from supersymmetric quantum mechanics.
Palavras-chave
Schrondiger equation
,
Fokker-Planck equation
,
Generalized Morse potential
,
Hulthen potential
Como citar
Journal Of Statistical Physics. New York: Springer, v. 162, n. 2, p. 387-396, 2016.
Coleções